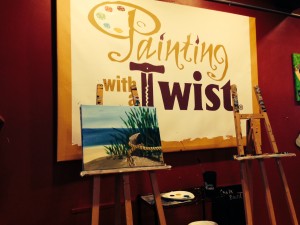 So there is a new hot spot in Braintree, MA where you can enjoy a night with friends exploring your inner Van Gogh.  Who, you ask? You may need to get out more often! He was the artist who allegedly cut off his own ear.  Fun fact:  new evidence has surfaced that his friend Gauguin may have been responsible for his injury.  That's not a very starry, starry night for either of them.  However, the night I painted was indeed a good one for me.  So are you looking for something fun and different to do with your friends?  It's called Painting with a Twist.  This is the place.  I was fortunate enough to be invited for a free session on a night when the event was a fundraiser for childhood cancer, which was really something.  It was a sold out event and twice a month Painting with a Twist hosts a fundraising event and gives 50% of the proceeds to charity.  Yes, you read that right – 50 % which is a large amount.  Most places give 10 or 15% but I was told by the owner Matt Varcher that since he and his wife Candice opened their doors 7 months ago, they have given somewhere between $8,000-9,000 to charities through this program.  That is really cool.  They are cool, hip and happy owners who make the experience enjoyable for all.
I thought the twist was that they donated to charity but the twist is you can bring your own beverages and food and make a painting party for you and your friends.  You can book a private event or you can join others.  Although I didn't know anyone there, my seat mates and I had a good time.  I found myself totally engrossed in the painting experience.  I don't think I have painted since elementary school and that certainly wasn't on canvas.  And believe me, I looked at the painting we were supposed to do (pictured above) a few days before the event and I thought, "There's no way I can do that, especially the rope".  Somehow we all managed.  In fact, there were a great number of compliments flying around the room and I don't think it was the wine talking.  As far as I know, no one drank their dirty paint water which Matt cautions everyone to be careful not to do, even though it is non-toxic!  The other thing I thought was funny was the email confirmation said they reserved the right to paint a moustache on anyone who came late.  I didn't see this email until later but I may have gone late to see if they would actually do it.  Hey, why not be moustached, that's kind of cool, right?  I would have requested a Salvador Dali 'stache – all thin and curly at the ends!  Evidently, a couple of people have been moustached, according to Matt.  Good sports, right?  Let's face it, it adds to the fun.
So go check it out right
here
.   Whether you channel your inner artist or you just have drinks and laughs with friends, it is time well spent.  Even Van Gogh would approve.  It is a starry night.  Here is the
calendar of events
so you don't have to work too hard.  And if you don't live in MA, don't worry, there are plenty of other
locations
. Happy painting!